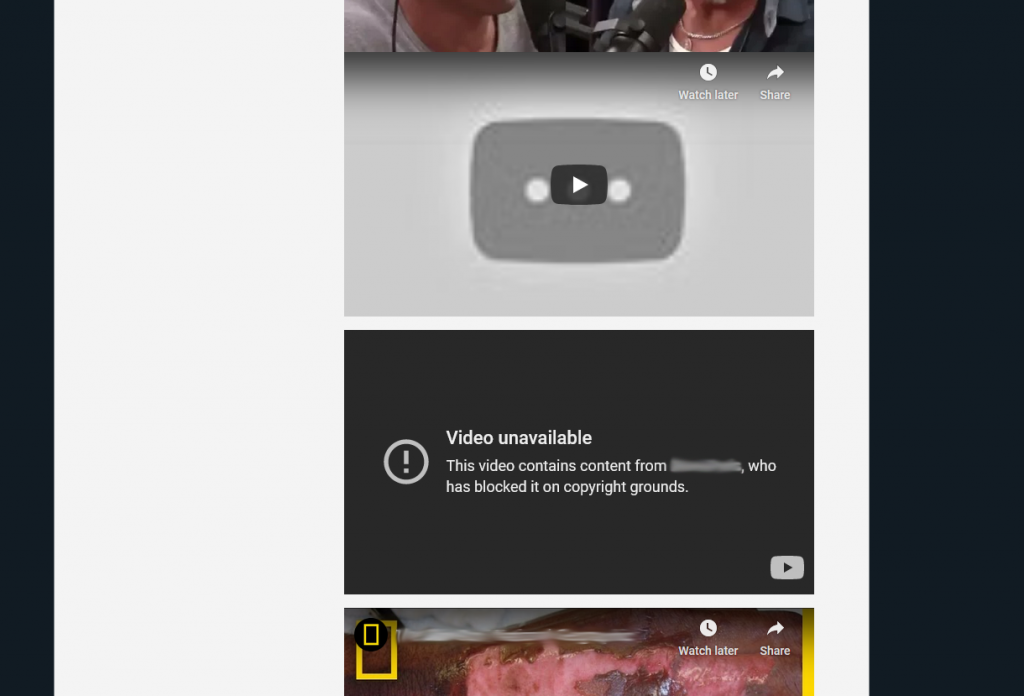 If you can't produce your own videos for your website, why not just find some others and embed them? Simple, right? Well, not exactly.
Many businesses have a dedicated "Videos" tab on their site for relevant content. Often, someone will curate video content from other sources and believe this is a valuable practice. But just as often it is fraught with problems. The image above is taken from a company website that has many videos embedded from YouTube under their "Videos" tab.
Can you see what's wrong?
Somewhere along the way, the original content creator has removed the video, leaving blank spots with no content on the page.
Here's why it's not a good idea to use other folks' videos:
1. You have no control over their content. And if their videos are monetized on YouTube, they could be showing an ad that is counter-productive to your business.
2. The videos may have a call to action or a link that takes visitors away from your website.
3. The practice really does nothing to help your Search Engine Optimization and get you found more often.
4. The best course of optimizing with videos is to have relevant content on all of your pages, especially on your About Us page. Videos under a dedicated tab may be overlooked by your visitors.
5. Google loves original content. That means videos specific to your business and your message with a few lines of text that compel the viewer to click and watch.
Business websites that use a "Videos" tab are often not updated frequently, so problems like the image above are missed for a long period of time.
Original, professionally produced video content is affordable and gives your business an advantage over the competition. Remember – if you use video, and they don't: You Win!
–That's a wrap.
Ron Harper is the founder of Videos On Your Website, a Cincinnati digital marketing firm specializing in video web content for businesses. Get a FREE Video Buying Guide at Videos ON Your Website – Cincinnati and Dayton Video Production Guide.